Classic Bike Guide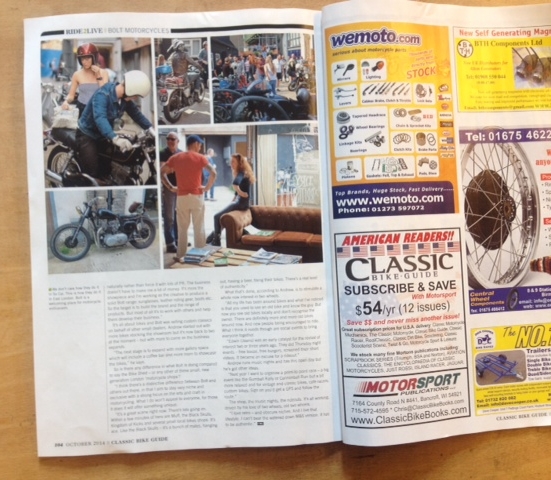 BOLT FROM THE BLUE
This London motorcycle shop is new and vibrant – tapping into local-made bikes and biker gear – and offering a meeting place for enthusiasts of the classic lifestyle.
Photos by Gary Margerum
The sign-written old scooter and accompanying blackboard directs the bikers down the alley to Bolt Motorcycles and there's a constant drip-feed of bikes coming up and down the access road.
Bolt opened back in March but this hot mid-summer's day feels like the official opening – a kind of all-day party with beer, burgers and plenty of bikes. Bolt Motorcycles isn't your average motorcycle shop. Thank god. In an industry that's long since been forced to adopt the car showroom mentality of gloss and glamour, performance and electronics, Bolt thankfully harks back to the times when the motorcycles had a raw edge to them, their owners were much more hands on – and both bikes and riders had true style.
Bolt Motorcycles is all about style. It's a collective of anything bikes, from complete two-wheel customized classic machines, to riding gear, art and trinkets – and most of the merch is from fledgling companies run by biking enthusiasts.
Andrew Almond is the man who owns Bolt Motorcycles. He said: "I spent a year planning this. I wasn't sure how to make the model work. I considered it as a cafe, but I wanted a motorcycle shop and I'm sticking with up and coming companies. And I wanted it in the East End of London. I signed the contract just before Christmas and the official opening was in March – but it was an intense three weeks to get it all sorted.
Andrew was a senior business manager at the Barbican – and before that, I worked at the University of Arts, managing creative projects. "I've always had a love of bikes," he says. "I started riding at 18 in Israel when I was working there and when I moved to London in 2005 I bought a 1963 Vespa VBB – the one with the big bum – to get around. I thought, 'If I'm going to live in London I'm not going to rely on public transport. So I rode the Vespa." Andrew also has a Guzzi 850GT, which he bought back from Italy three years ago. The bike had been sat unused for ten years but a little bit of tlc and now it's a fully serviceable urban warrior.
Andrew had reached a stage in his life when he didn't want to work for an employer and wanted a project of his own to commit to. He says: "I did this because I don't like politics (I faced in my previous jobs). I like bikes, art, fashion and putting it all together. "I was inspired by the Black Skulls, who are just around the corner from here in Hackney. And by the people in the scooter scene. I realised there were some great people making great products but no one was doing it all in one place so I thought there was a gap in the market. You know, everyone is building bikes but there's no showroom.
"My skills have always been in bringing people together so I created Bolt Motorcycles. I'm sick of mediocrity. Ugly helmets. Ugly riding gear, especially when there's so much good stuff out there!"
Style can be confused with fashion. Style has longevity. Fashion is what's hip. Even those outrageous billet choppers were hip at one time. Cafe racers and street trackers are hip. But Andrew is definitely into the current 'hipster' thing. "I don't want Bolt to been seen as part of the so called 'hipster scene' – because it's not," he states. "I'm young, well, youngish at 36, but I'm not a hipster. It's like hipster was cool but has become a derogatory term with a massively negative connotation. There's so much venom aimed at the hipsters. What I prefer to think of is that the scene is all about progressing motorcycles."
Bolt Motorcycles' site in Hackney is in the railway arches just opposite a block of offices – owned by publisher Daniel Alexander Ross. I saw the space and liked it," says Andrew. "I had the idea of bringing all the people who wanted to be part of this – and Many people who has pitched in to support Bolt has offered goods on sale or return. It was jumping in the dark. I borrowed ten grand to do the whole thing and I've got the bolt to show for it. ten grand won't even set you up with a market. I know Dan who publishes Intersection magazine – it's a car mag which is huge in other countries but is not quite so well known in England. When I talked about my plans, he asked me if I'd like to manage the space here (office block). There's some 200 people work here and there's a lot of maintenance work needs doing. It's home to a record label, wine people, magazine publishers, arty people. It's a real creative community. So I get my space for Bolt and manage the main building.
There are three elements to the Bolt Motorcycles; the bikes; the products and the art. The product I stock come from companies who all ride. And I've got as near to exclusive as I can with La Rocka, Black Skulls, Real Intellectuals, Eat Dust, Dawson Denim, Mark P Fraser Jewellery, Scott Fraser Simpson, Sidewinder Apparel, Barry Sharpe (Sharpeye). We've got a lot of people who are involved in high-end fashion and motorcycling kind of meets them half way. I think it forms a link with contemporary young people.
The scooter at the gate we mentioned in the intro to the story is Andrew's old ride – with the graphics done Nico of Ornamental Conifer. And that paint job was one of the catalysts in this project of Andrew's. It was actually one of the early things he did. I liked it and wanted to get more artists into motorcycle culture. But the underlying factor is it's all about stuff that's well made. And locally made. It's all small (production) runs but everything I stock will last a lifetime and it's all made for people who ride and know that what they need has to endure anything that's thrown at it on the road. It's all bespoke – but based on old designs. We're talking about the fifties, sixties and seventies. It's all about style – not fashion. That's the way I see it anyhow. I aim to do art exhibitions – so there will be more artworks here. There will be people to paint leathers, to create helmet designs. It's all about individual pieces – clothes to make you stand out.
Since kicking off , Bolt Motorcycles has already had some good press in what you might call the cult press- the real specialist fashion-led mags that incorporate motorcycling.
We've been in Men's File, Clutch (Japanese fashion mag), Jocks and Nerds but I want the business to evolve naturally rather than force it with lots of PR. The business doesn't have to make me a lot of money. It's more the showpiece and I'm working as the creative to produce a solid Bolt range: sunglasses, leather riding gear, boots etc. So the target is to build the brand and the range of products. But most of all it's to work with others and help them develop their business.
It's all about bikes and Bolt was selling custom classics on behalf of other small dealers. Andrew started out with more bikes stocking the showroom but it's now back to two at the moment - but with more to come as the business expands. "The next stage is to expand with more gallery space which will include a coffee bar and more room to showcase the bikes," he says.
So is there any difference in what Bolt is doing compared to say the Bike Shed – or any other of these small, new generation London 'motorcycle shops' "I think there's a distinctive difference between Bolt and other offers out there in that I aim to stay very niche and exclusive with a strong focus on the arts and craft in motorcycling. What I do won't appeal to everyone, but for those it does it will offer something unique.
It's a great scene right now. There's lots going on. Within a few minutes of here are Muff, the Black Skulls, Kingdom of Kicks and several small local bikes shops. It's ace. Like the Black Skulls – it's a bunch of mates, hanging out, having a beer, fixing their bikes. There's a real level of authenticity. What's that's done, according to Andrew, is to stimulate a whole new interest in two wheels.
All my life has been around bikes and what I've noticed is that you used to see an old bike and know the guy. But now you see old bikes locally and don't recognize the owner. There are definitely more and more old bikes around now. And new people being encouraged to ride. What I think it needs though are social events to bring everyone together. Edwin (Jeans) was an early catalyst for the revival on interest two or three years ago. They did Thursday nights events – free booze, free burgers, screened their short videos. It became an excuse for a ride out.
Andrew runs music nights and has this open day but he's got other ideas. "Next year I want to organize a point-to-point race – a big like the Gumball Rally or Cannonball Run but a bit more relaxed and for vintage and classic bikes, cafe racers, custom bikes. Sign on you'd get a GPS and follow the route.
The shop, the music nights, the ride outs. It's all working driven by his love of two wheels, old two wheels. "I love retro – and obscure niches. And I live that lifestyle. I can't bear the watered down M&S version. It has to be authentic.