Bolt / Annual Round up 2018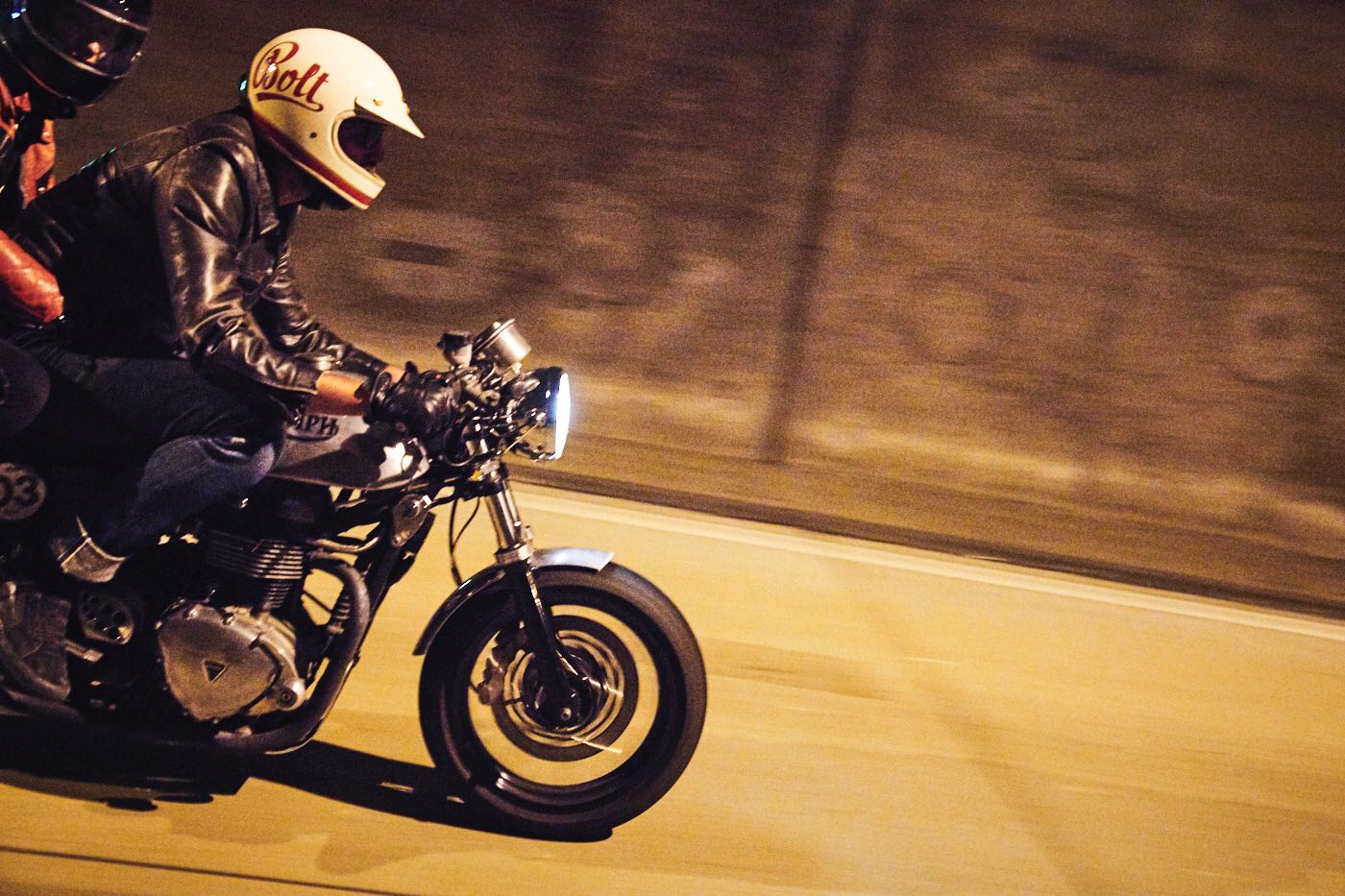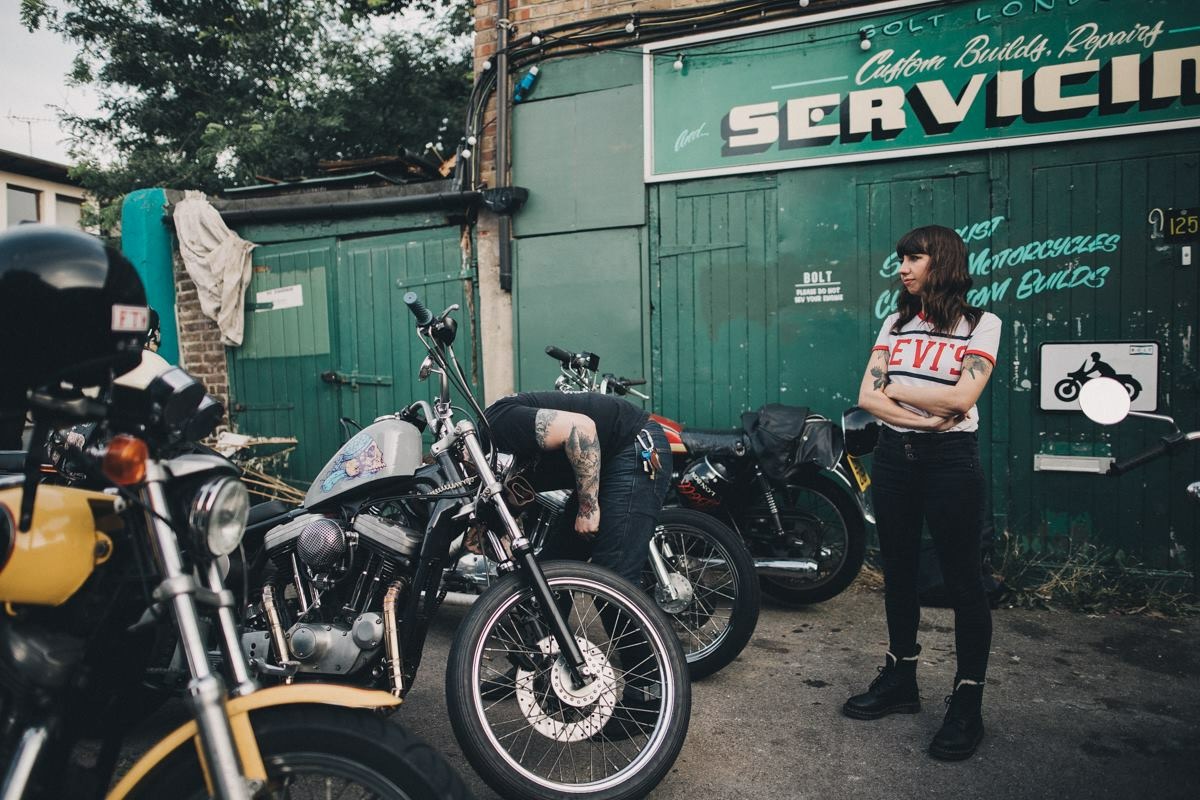 Its usually about this time that I sit back, take a breath, and think about the past year gone by. Running my mind back and shifting through literally thousands of jumbled photos doesn't bring much clarity. So I am going to do my best to recall some stories from the last 12 months. My greatest memories always start with people and the different custom builders we've met, both in the UK and abroad, have been the highlights. It can sometimes feel that a lot changes quickly in the world of motorcycles and it is only when you meet those people who have been in it for as long as they remember that you feel anchored. This year we made it to eight countries and met with many people who interweave motorcycles in the fabrics of their lives in different ways. From racing through Morocco with the guys from Fuel in Barcelona to building choppers amongst a small livery of animals with Andy Porter, we have found unrelenting enthusiasm and innovation for motorcycles.
Bali /
It seemed that everyone who visited the shop had been or was heading out to Bali in 2017 and the stream of images of beach sunsets, jungle ruins and riding motorcycles in the sun was becoming too much to bare. Bali feels like the Spiritual home of Deus and struggling to comprehend the increasing influence of the surf, motorcycle lifestyle in London I wanted to see it back at the source. I had been once before, almost a decade before when I had taken a scooter and travelled around the island of Lombok.
This time we headed for Ubud and a sanctuary deep in the jungle on a steep hill overlooking a canyon and an ancient water temple. It really lived up to the hype, the place was visually stunning and a world away from the pace of London. The first few days were spent gawping over the edge of an infinity pool as groups of monkeys raced through the temple ruins. That was a bit of a lie as by the second day I had found a set of wheels and Marianna and myself went exploring the island. Motorcycles are everywhere and the culture of customising them in many ways bares little influence to anywhere else. Craft is central to Balinese people and across the island you find stone and wood carvers, metal workers and artists using both traditional and contemporary styles. Intrinsically hands on most two wheeled vehicles had been adapted, either for function, style or simply because the thing they tried to emulate was unobtainable. Vespa scooters were deconstructed, welded and made into four wheel mobile carts or bolted on to frames and made into motorcycles. As we rode across the island we came across packs of local motorcyclists who came soaring down the twisty jungle roads in a cloud of screaming two stroke smoke. There was no real point in having a powerful bike with the roads as they were, a small and highly tuned bike would be best suited for weaving through the other motorcyclists who would appear in waves and distilled in to a thick soup in the urban areas.
We headed to the capital of Denpasar to meet up with the infamous chopper builders at Kedux Garage. The Balinese are reknown for being friendly and the laid back serenity at the garage was inspirational. Hidden down a side street the space opens up to reveal a courtyard filled with pan, knuckle and iron head choppers lent amongst fish ponds full of carp and guys hanging out in the mid day sun. It's one of those places overflowing with rare parts, vintage helmets, tanks and fairings and leads you to understand how they got their reputation. We then headed up to Cangu with its beaches ripe for surfing it had become the centre of an explosion of tourism. Eight years prior when the Deus temple of enthusiasm first opened it was literally all just fields, fast forward and a citadel of organic food, coffee bars, skateboard parks and bars had sprung up. You can't help but be taking back by the sheer scale of the Deus store, although store doesn't do it justice, its a compound housing motorcycle builders, surf board shapers, a bar, restaurant, shop and skatepark. Its not by chance that everything inside the four walls had been replicated a hundred times outside. Its a sign of its success that a brand has the power to influence an area and local culture to such an extent, its like they created their own fun park. They were offering tacos and tattoos in the bar and Arthur who had been instrumental in shaping the place since the beginning gave us a tour. With access to some rare japanese bikes on the island the garage was busy turning them into custom trail bikes in their distinctive Deus style. Their investment in the builds reflected the environment, Bali was best ridden on something that wasn't to precious to throw about.
We avoided the local custom motorcycles that were offered around Cangu which looked bedraggled by a life time of having their throttles yanked by sunburnt tourists in muscle vests. Instead we picked up a Kawasaki dirt bike and headed off to the more remote northern quarter, a jungle nestled between two volcanoes and the royal residence of Sideman. What seemed like a typical booking on Airbnb took us to the guest house of the Prince of Sideman. I didn't really know what to expect when the Prince came down to greet us but he was way more rock n roll then I expected. Softly spoken and wearing sunglasses he informed us that he had invited many famous musicians from Indonesian to jam away until the early morning. His residence sits beneath a Volcano which was active at the time and all over the news when we had left. At sunrise its at its most active and you are greeted with plumes of smoke that rise out and form clouds around its rim. We clocked up some miles for the rest of our stay, heading up Volcanos in the monsoons and miraculously pulling off ill prepared roadside repairs.
Returning back to London and then it was on to Czech and in a matter of days I had gone from laying on beaches to climbing the snowy peaks of South Bohemia. We were on our way to meet all at the Budvar Brewery but first we were taken around the traditions of the area. We ate huge plates of meat, the local knuckle of pork weighed 28 oz and sat largely untouched on the plates of tourists. And beer, shit loads of beer, that was so cold and fresh it washed down like water. We came back and set about our next challenge, to build a custom motorcycle using a Czech Jawa, and ride it back to the brewery.
This was now approaching the second summer in Stoke Newington and we were feeling settled. We had freaked out a few of the residents at first but now an occasional party had become accepted. Trying to piece together all the different parties isn't the easiest thing but we had some good ones and they got increasingly bigger in scale over the summer. We kicked off with the annual The Spirit of 59 club annual ride in May which saw Jonny and the time bombs play a set in the yard in the glorious sun that would see the summer through. A good crowd of old boys in full rockers regalia made it down and it was great to see the London Rocker Scene is still strong and as colourful as ever. The next event saw a series of live gigs held in store as we hosted the launch for the Black Deer Festival. We had a top Butcher and gourmet chefs BBQ-ing literally pounds of rare steak in the courtyard amongst the rows of motorcycles and a couple of american pick-ups.
Simone kept busy in the garage and since going full time in January manage to work his way through more motorcycles then I could ever begin to remember. As we had set out to we have had pretty much equal numbers of custom and classic motorcycles pass through. In February we found an obscure Jawa / CZ 250cc two stroke which used the original style engine that dated back to the 50's. We later worked out when we met two Czech mechanics, who I have no doubt have the greatest authority on Jawas in the world, told us why the motorcycle was so usual. Produced in 1985 when Jawa had 20 factories world wide supplying a huge global market with cheap motorcycles things got a bit mixed up. This model was made specifically for the Egyptian market by sister factory CZ. I am not sure why Egypt had been supplied the greatly outdated engine but for our purposes it was a beautiful thing. Simone managed the build in our garage and we worked with others for the bespoke custom details. The bikes first outing was to the Bike Shed show in May where it got a really great response, i think people got that it was just a fun bike, it made you want to kick it over and rag it down the street. It might not have made you want to ride 1000 miles on it though, we'll get to this in a bit.
Black Deer /
I was asked to curate an area at the newly launching Black Deer Festival in the summer and it didn't take long before the event was upon us. In the months prior we had managed to secure an incredible line up over the weekend with headline acts The Picture Books and Jonny Cage and the Voodoo Grove . We had loads of support with Barons speed shop, Foundry Motorcycles, Treadwell clothing, Anthony Partridge and lots of friends who came down and partied. The best thing about the festival was the location nestled in a hilly deer park amongst ancient woodland, it had a great otherworldly feel to it. The festival was great fun until we left when it went seriously down hill. Having loaded the extended wheel base van with three motorcycles, most of the shop fittings and all our Art work we headed out the festival, unfortunately the wrong way. As we headed into the forrest the road slimmed, then became a track and then out of the darkness we noticed it fell into a steep decent. The weight in the back made any possibility of reversing impossible and the trees lining the sides allowed little space to shuffle let alone pull a 3 point turn. The Buell was in the back, its fine curved hand fabricated bodywork sandwiched between two more bikes and piles of metal furniture. I preyed that the racket strapping was going to hold out as we passed the brow and started rolling forwards down the slope. It was about 4am and we carried on like this for a further 40 mins, on top of three days sleep deprivation my nerves were beginning to fray. We passed through a field, I think we had lost sight of even a track at this point and came face to face with a gate. Even if we wanted to we couldn't turn back, we had to call it day just 10ft from the comforting sight of flat tarmac on the other side. And then with the genius of modern farming it happened, slowly opening up like a warm embrace ushering us through to the road beyond. At that point I finally fell asleep.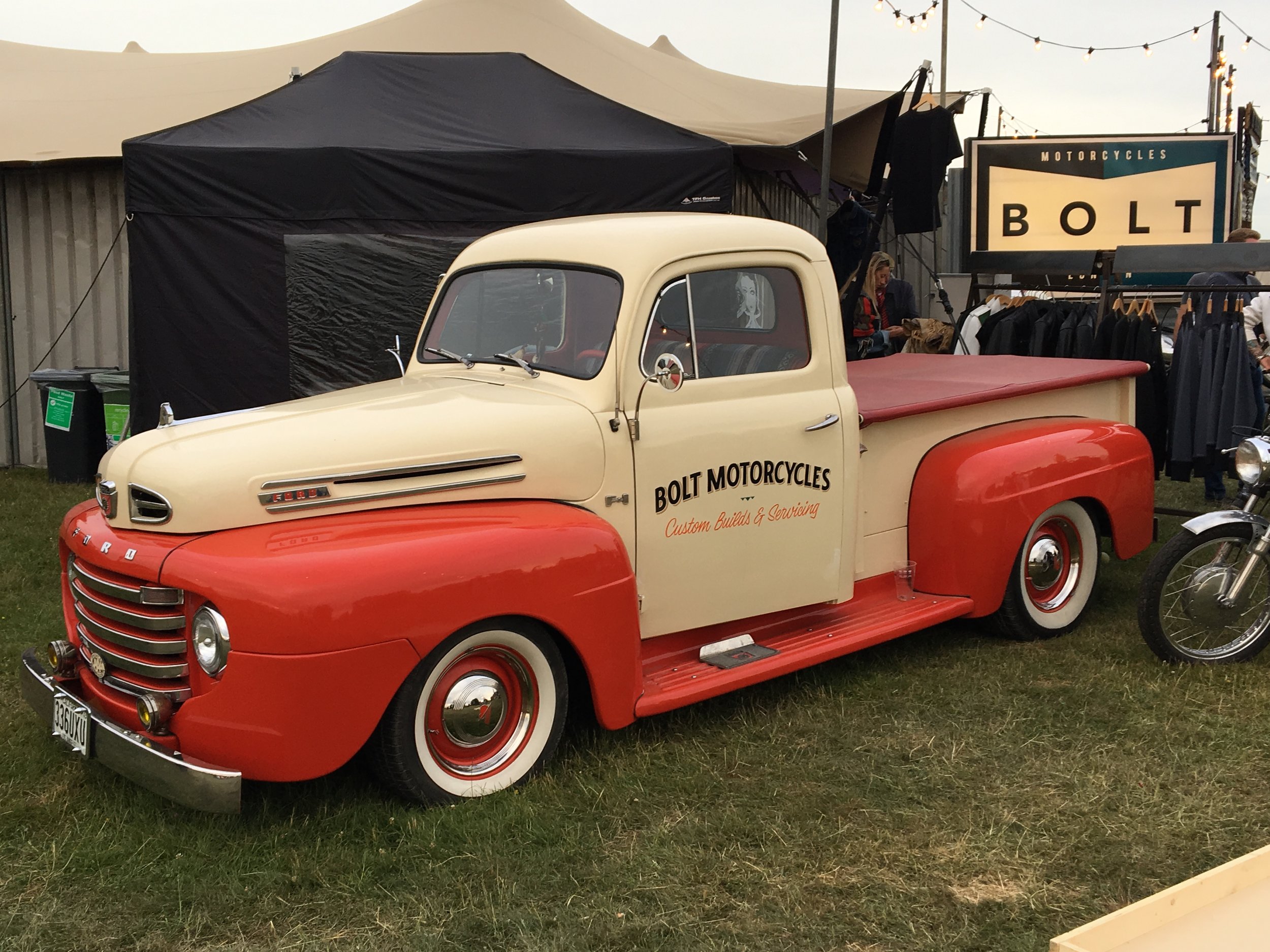 The following weekend it was the Malle Mile and our first chance to take the finished Jawa out for a test run. Simone having put in some considerable time into building the thing wasn't as convinced that this was a wise idea. It had a combined kick start / gear shifter so you'd kick it then flip the pedal back and down into first gear and suddenly that snap of power from the two stroke engine comes in. After the first run up the hill climb I got a sense that it had a lot more to give, it turned well on the slaloms and the hard tail rear didn't seem to matter. Needless to say with added it gusto it didn't take long to break it and a snapped clutch saw me exit the next race.
Budvar road trip /
We had a couple of weeks to fine tune the Jawa before we set off on our road trip to South Bohemia. The trip was pretty perfect, eight close friends on a 1000 mile cross country adventure in the baking summer heat. The little Jawa faired well and we had some great parties along the way with Rusty Gold and Denim Heads in Prague. You can watch the film we made along the way here
Barcelona /
Some how I had managed to skip out visiting Barcelona and my curiosity was growing, I like pretty much everything I knew of the place form a far. We stayed in the Ramblas, part of the old town just off the central strip. The cramped streets were a circus of illegal activities with crack pipes, prostitutes, dealers and debauchery at every step. The hotel was quite nice though. One of the first people to complete our Basics of Mechanics course with Tony Davies had moved to the city and started Retro Rides -a motorcycle hire business with a difference. Rather then the typical offering they offered a Triumph street scrambler, twin and a moto guzzi v7. We opted for the Guzzi and took it through the mountains and then up the costa brava on the acclaimed costal road, one of the best in spain. Back in Barcelona we caught up with the guys from Fuel Motorcycles at their garage down town. Karles showed us some of the current builds, including this great look big twin sat beneath the tiniest old tank. It was totally inspiring to see how they lived out their passions both in the garage and on their annual trip through the dessert with their scram africa race. Full write up here
It was around this time, early September that I got speaking to Edie Ashley who was preparing for her graduation show at the Truman Breweries. Edie was doing something beautiful and different, pulling ideas from the rich history of motorcycling and creating a look that was current and exciting. It didn't take long before we started delving through archives and building images of how we could create a apparel to suit a new motorcycle style. When it came to looking at fabrics, Edie led a hunt through the British millinery suppliers digging out rolls of incredible mole skins and other lost gems. We will be sampling in the new year and looking to launch early summer.
Having met Jeff Griffin for the first time at the launch of his collaboration of Griffin x Woolwich at London fashion week it was only three weeks later that we were over in Milan visiting the factory to see the first sample. For a collaboration to really work, to innovate, it should seek out partners with particular expertise and different backgrounds to come together and create something new. Griffin's use of highly technical fabrics and production alongside his luxury sportswear and military inspired clothing made him a perfect collaborator. We wanted to create a jacket that was future facing and functional, encapsulating the rider from the weather and the road underneath. Whilst in Italy we visit the monster of a motorcycle exhibition that is Eicma and caught up with Mr Martini and Deus Milan. Full write up here.
I seem to think this every year, with the same optimism as Delboy, I sense that next year is going to be a good one. We kick off with our own event launching in March next year. We had a blast with the Black Deer but if you want to do something right do it yourself. We will also be launching new collections with Edie and Jeff , as well as some new pieces starting with the Bolt type II jacket and melton wool cap in January. We've had some amazing times this year and met some amazing people. Also thanks to all who came and celebrated our September party, our biggest party so far with somewhere near 500 in the yard. Its forever inspiring to be part of an evolving culture fuelled by speed, adventure and community.